ROBIOTICS WRINKLES & LIFTING MULTI - ACTION

SHAPING CREAM

SPF 20 &UVA – DAY
50ml
DERMATOLOGICALLY TESTED
Against Wrinkles and Sagging Skin
​
Probiotics powered multi-action shaping cream with SPF visibly reduces the appearance of fine lines and deep wrinkles while revitalizing skin for a flawless radiant complexion. Boosts 6 skin-rebuilding essentials: Collagen I, III, IV, fibronectin, hyaluronic acid and Laminin-5.
​
Prevents & Corrects
​
Probiotic Lactobacillus and Bifida Ferment Lysate – Help prevent and correct the damage caused by urban aggressors including UV and pollution.
Reduces Wrinkles
​
Palmitoyl Tripeptide-38 (Matrixyl Synthe'6 ) stimulates collagen synthesis, reduces appearance, volume and depth of wrinkles dramatically.
Hyaluronic Acid deeply moisturizes skin while plumping and smoothing the appearance of deep wrinkles and visibly increasing firmer-looking skin.
​
Brightens skin
​
Porcelain Flower revitalizes skin for a flawless radiant complexion.
​
Protects
​
SPF 20 & UVA help prevent wrinkle formation and hyperpigmentation of skin.
​
Moisturizes & Protects
Powerful Antioxidant Squalane increases skin hydration, restores the lipidic structure of the skin and helps prevent the TEWL.​
​
CLINICAL STUDIES​
Anti-wrinkle effect in just 8 weeks
​
-31% reduction in the volume of wrinkles

-16.3% reduction in the maximum depth of a main wrinkle

+28% lifting effect increased
Increase in skin elasticity in just 4 weeks
​
Increase in the synthesis of matrix molecules
​
+105% increase in Collagen I

+104% increase in Collagen III

+174 % increase in Hyaluronic aci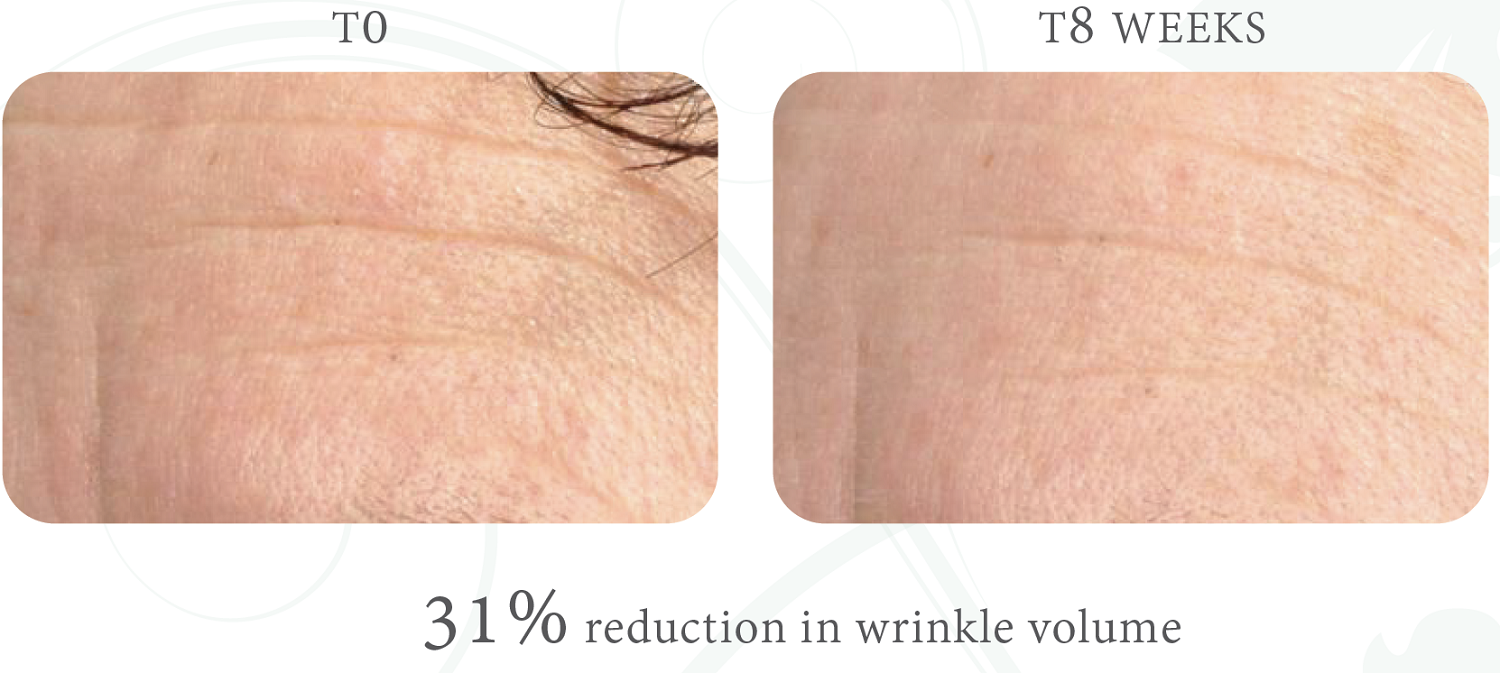 * In-vivo and In-vitro tests on ingredients.
What kind of skin it is good for: For all types of skin with signs of aging.
What kind of concerns it is good for: Uneven skin texture, wrinkles, lines and sagging facial skin.
Who it is good for: Women over 25, the age when collagen production levels begin to decline and first signs of aging appear.
Texture: Velvety and lightweight.
Scent: Light and fresh.
Directions
​
Apply in the morning to face and neck. Gently massage using circular movements.